How an old newspaper
covers new incoherence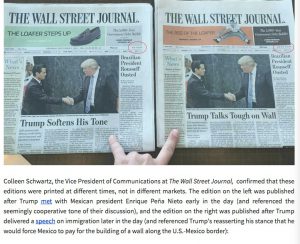 This is a current story on media coverage of the 2016 US election, handled by Snopes.com.
Opposite headlines, written in response to the candidate's opposing positions at two different times of day. It illustrates the almost-impossible task of traditional media: How do you appear to be coherent (and "fair") while covering a candidate who (along with his party) clearly isn't? How do you treat an "anti-government" oligarch — one of many today — seeking to run a nominally democratic government?
Many times in the history of my native state, West Virginians have watched the US government step in and clean up a giant political mess that the state government had become — sometimes led by Democrats, sometimes the GOP.
The feds intervened in one oligarch's crimes of 1924, for example, something I built into Carla Rising.